News
Make eating properly and staying active a family affair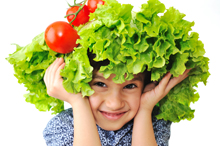 Many things can influence a child, including friends, teachers and the things they see when they sit in front of the TV or computer. If you're a parent, know that your everyday behavior plays a big part in shaping your child's behavior, too. With your help, kids can learn to develop healthy eating and physical activity habits that last throughout their lives.
Healthy eating and physical activity are essential for children of any age, as proper nutrition and sufficient physical activity are important for building strong bones and muscles. Getting active and eating right may also prevent excess weight and childhood obesity, a growing concern in this country. Today, nearly 1 in 3 children in the U.S. is overweight or obese, and their weight problems put excess stress on joints, muscles and bones, as well as an increase of risk for certain diseases.

Although most of us know that it's a good idea to eat healthy food and move more, it isn't always easy to do. Children aren't likely to change their diet and activity habits on their own without anyone influencing them. It's up to the parents to make it easier for their family to make healthy choices since they are the ones bringing food into the house and controlling how much time children are allowed to watch TV or play on the computer, among many other decisions.

In one recent study, a team assigned obese children, ages 8-12, to different types of weight-loss programs. All the groups were taught about healthy diet, behaviors and exercise. For some groups, positive feedback and encouragement for weight loss and behavior changes were given only to the child. Other groups focused on both the child and an obese parent. Comparison groups received little feedback.
The researchers found that when obese parents and children worked together, both were more successful at losing weight and making healthy changes. This suggests that the involvement of the entire family can lead to major benefits for the child, which can establish habits that should last for a long time.
Over time, most parents gradually began to regain their lost weight, the researchers found. But after 10 years, more than 40% of the kids who worked with their parents had maintained a weight reduction of at least 20%. While it's never too late to start making healthy changes in your family, research suggests that the earlier your kids learn healthy behaviors, the better.
Preschool is considered an ideal time to start exposing your children to a variety of healthy foods, such as fruits and vegetables, so they develop an early liking for them. Getting young ones to accept fruits and vegetables can be a challenge, but some parents give up too quickly if a child rejects a new food. Research suggests that the more times you offer a food, the more likely a child will be to warm up to it. If your child doesn't like a new food right away, stay positive and keep trying over time. Encouraging kids to take just one bite of a new food can help, but avoid creating conflicts and stress over it.
Children under the age of 3 tend to stop eating on their own when they're full. But after that, they tend to eat whatever is put on their plate. Therefore it's important to give your kids child-size portions and to teach them about their feelings when it comes to how much they've eaten.
Several studies show that parents can effectively influence healthy behaviors by talking in a positive way or avoiding certain situations altogether. One example is to simply keep cookies and other unhealthy foods out of the house entirely rather than deal with the denying them those foods when they ask for them.
Experts recommend that most kids get at least an hour of moderate to vigorous physical activity each day. Parents can help by limiting TV and computer time to no more than 1 or 2 hours per day. Small changes in the home environment can also have a huge effect on physical activity. You can make sports equipment like balls and jump ropes more accessible by putting them next to the door. Walking fast, bicycling, jumping rope, and playing basketball, soccer or hopscotch are all good ways for kids to be active.
When it comes to food and physical activity, what you say and do around your children can have a lasting effect. Work together as a family to make healthy habits easy and fun.

The responsibility of getting children to have healthy diets and stay physically active lies in the hands of their parents. Healthy habits can start early and will lead to an array of benefits in kids' future, and can be accomplished with some minor changes and serious dedication. Keep this in mind in all the decisions you make regarding your children, and always remember to see a physical therapist immediately if you or your child suffers from an injury or experiences any persisting pain in your muscles or joints.
November 8, 2013
See News
Disclaimer:
The information in the articles, posts, and newsfeed is intended for informational and educational purposes only and in no way should be taken to be the provision or practice of physical therapy, medical, or professional healthcare advice or services. The information should not be considered complete or exhaustive and should not be used for diagnostic or treatment purposes without first consulting with your physical therapist, occupational therapist, physician or other healthcare provider. The owners of this website accept no responsibility for the misuse of information contained within this website.