News
Aquatic exercise leads to numerous benefits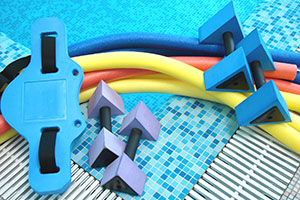 Several characteristics make exercise in water an attractive option for some
Musculoskeletal conditions affect the bones, joints and muscles and consist of a variety of issues, including low back pain and osteoarthritis. They are extremely prevalent and are among the leading causes of chronic pain, disability and reduced quality of life (QoL), making them a major health concern. One treatment option for musculoskeletal conditions that's been gaining popularity recently is aquatic exercise, in which a series of movements are performed underwater. In this environment, the buoyancy of water decreases stress on joints and allows easier movement, free of gravity. The warm water also reduces swelling and the perception of pain. Many studies have found benefits of aquatic exercise, but quality has been variable and their aim is often on specific conditions rather than a wide range. Based on this, a systematic review and meta-analysis-a powerful investigative combination that reviews all available literature-were conducted on aquatic exercise for musculoskeletal conditions.
Only high-quality studies are included in review
Four medical databases were searched for high-quality studies called randomized-controlled trials (RCTs) and quasi-RCTs. All studies had to include a group of patients with musculoskeletal conditions that underwent aquatic therapy as compared to a comparison group, and the outcomes of interest used to assess these patients were pain, physical function, and QoL. This search turned up 1,199 potential studies that were evaluated, and 26 of these were deemed acceptable and used in the review.
Aquatic exercise provides benefits that are comparable to land-based exercise
The systematic review and meta-analysis provided new evidence that aquatic exercise is beneficial to patients with musculoskeletal conditions and was found to reduce pain and improve physical function and QoL. Overall, the majority of the studies reviewed were rated as high quality and the improvements detected were mainly consistent across different musculoskeletal conditions. When compared with land-based exercise, aquatic exercise was found to lead to equivalent improvements in all outcomes measured. This means that both exercises provide similar benefits, and patients can select whichever of the two appeals more to them. More research will help to better outline important specifics, but it appears aquatic exercise should be regarded as an effective intervention and worthwhile alternative to land-based exercise for those who prefer it.
-As reported in the September'14 issue of
Archives of Physical Medicine and Rehabilitation
May 12, 2015
See News
Disclaimer:
The information in the articles, posts, and newsfeed is intended for informational and educational purposes only and in no way should be taken to be the provision or practice of physical therapy, medical, or professional healthcare advice or services. The information should not be considered complete or exhaustive and should not be used for diagnostic or treatment purposes without first consulting with your physical therapist, occupational therapist, physician or other healthcare provider. The owners of this website accept no responsibility for the misuse of information contained within this website.