News
Multiple types of PT helpful for women recovering from breast cancer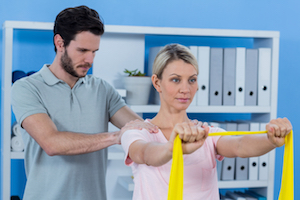 Measures are now needed to improve quality of life after treatment
In recent years, the survival rate for women with breast cancer-the most common type of cancer for females-has risen. This is due to significant improvements in both the screening and treatment of breast cancer. With the higher survival rates, there is now a focus on improving the quality of life for survivors. Many women experience a number of complications from their breast cancer treatment such as pain, decreased overall strength, less mobility of the shoulder, and lymphedema, which is the swelling of an arm from too much fluid. These complications can have a negative effect on the quality of life of breast cancer survivors, and measures are now needed to address this. For this reason, physical therapy is often used to address the side effects from breast cancer treatment. This may include techniques performed by the physical therapist, stretching and exercise, but no study has yet reviewed all of these different types of treatment on breast cancer survivors. For this reason, a powerful study called a systematic review was conducted. The purpose of this was to review all available evidence on these treatments for women dealing with complications from breast cancer treatment.
18 studies are used in the review
In order to conduct the systematic review, five major medical databases were searched for any studies that investigated physical therapy treatments for women breast cancer complications. To be included in the review, each study had to be of moderate or high quality. Each study also had to include a physical therapy program that was started within the first six weeks after surgery. This search led to a total of 18 studies on a variety of physical therapy treatments for breast cancer survivors. Once compiled, these studies were reviewed and analyzed in detail to determine how effective physical therapy was for these women.
Various physical therapy treatments are effective for complications
The results from this systematic review showed that a few different types of physical therapy treatments were effective for addressing some of the complications from breast cancer treatment. This was seen with treatment programs that consisted of stretching and guided exercises performed by the patient, which improved the range of motion (ROM) of patients' shoulders. ROM is a measurement of the movement or flexibility of the shoulder, which can be affected by breast cancer treatments. Other studies showed that techniques performed by the physical therapist on patients also improved their ROM and decreased pain. Exercise in general was also found to be helpful for both shoulder ROM and pain. With these positive results, it seems that physical therapy can play an important part in helping women recover from breast cancer treatment. Many of the studies showed that physical therapy can improve shoulder ROM and decrease pain, which can make life much easier for breast cancer survivors. For this reason, women dealing with complications from breast cancer treatment should consider seeing a physical therapist for guidance on effective treatments.
-As reported in the June '15 issue of
Archives of Physical Medicine and Rehabilitation
February 24, 2017
See News
Disclaimer:
The information in the articles, posts, and newsfeed is intended for informational and educational purposes only and in no way should be taken to be the provision or practice of physical therapy, medical, or professional healthcare advice or services. The information should not be considered complete or exhaustive and should not be used for diagnostic or treatment purposes without first consulting with your physical therapist, occupational therapist, physician or other healthcare provider. The owners of this website accept no responsibility for the misuse of information contained within this website.